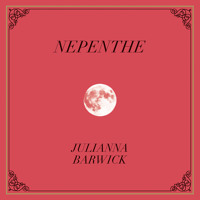 With her stunning new album, "Nepenthe", Julianna Barwick not only creates a realm of otherworldly enchantment, but she also reminds us that at its best, the human voice can be more rich and affecting than any other instrument.   From beginning to end, this is a work of arresting beauty that will stop you in your mental tracks and force you to listen, enthralled.   It's transcendent qualities are hinted at both by the title, which refers to the mythological drug of ancient Greek literature used to help one forget grief and sorrow, and by the choice of location for creating the album – Iceland in winter.
Within seconds of 'Offing', the opening track the listener is absolutely transported to another place, as if waking up to a dream.   Having spun a delicate cocoon of sound that envelops the album, lovely melodies are introduced with the tracks that follow, 'The Harbinger' and 'One Half'.  Strings, keyboards, and effects appear, but only just enough to enhance the music and never diminishing the prominence of the rapturous voices.
The central portion of the album is anchored with pieces that add a little more gravitas to the ethereal vocals – the deep buzzing tones underpinning 'Look Into Your Own Mind', the impassioned strings introducing 'Pyrrhic', and the reverberating piano accompanying 'Labyrinthine'.   The tracks which follow, 'Forever' and 'Adventurer of the Family' are brighter and more optimistic in comparison.
Then, a soft drone and very light glitch introduce 'Crystal Lakes' which uses a de-tuned keyboard effect  to counterpoint the sweet, ethereal vocals.  It is a truly lovely piece.  Finally, and interestingly, the album closes with the only purely instrumental track, 'Waving to You', which is both short and slightly dissonant.   I consider this a rather clever stroke.  Instead of creating a sense of resolution and closure to end the album, it creates just enough suspenseful tension that one wants to immediately start listening all over again.
"Nepenthe" is simply a lovely work of musical and vocal art.   It is otherworldly and mysterious, yet remains always accessible if not warmly inviting.  It is thoroughly enchanting and speaks volumes about the range, power, and beauty of the human voice.  It is also wonderfully enhanced by Julianna's collaborators, Alex Somers (musician/producer of Sigur Rós, Jónsi, Jónsi & Alex), string ensemble Amiina, guitarist Róbert Sturla Reynisson from Múm, and a choir of teenage girls (see the teaser video below).  I dare say it is one of the most special and unique records you will hear this year.  Highly recommended.
Album information:  http://deadoceans.com/onesheet.php?cat=DOC069
Listen here to track #3, 'One Half':
A lovely teaser video showing glimpses of the making of "Nepenthe":