This is one of a series of "travelogues", or year-in-review posts, covering music I especially enjoyed this year. This entry covers a dozen albums that were especially hard to categorize, which I expect is very likely to the delight of each artist rather than their chagrin.  Covering a gamut of styles, genres, and back stories, they all made for irresistible and intriguing listening.  Note that the albums are not in any kind of ranked order, but are simply listed alphabetically by artist.  
Aidan O'Rourke – Hotline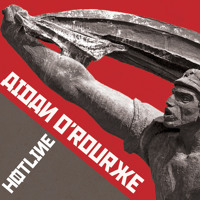 This solo project by Aidan O'Rourke (also of Lau and Kan)  centers around the first transatlantic telephone cable system and the historical significance of the conversations it carried.  The tracks reference the connection points in Scotland (Gallanach Bay near Oban, the artist's hometown) and Canada (Clarenville in Newfoundland) as well as the ship that laid the cable, the HMS Monarch.  The music blends traditional folk & jazz elements as well as vintage audio and field recordings captured during visits to the TAT-1 complex in Scotland.  Each piece follows a template in which the introductory section evokes the sense of place and time and then builds into a musical conversation of diverse voices, not unlike the many verbal conversations that took place over the cable itself.  These musical voices are provided by Aidan's fiddle, Phil Bancroft's saxophone, and Paul Harrison's piano, and are all deftly propelled by Martin O'Neills bodhran and Catriona McKay's Scottish harp.  A fascinating and unique project and a cracking listen.
Release: Reveal Records (July 2013)
Favorite tracks: Clarenville, Gallanach Bay

Information: http://www.reveal-store.com/product.php?id=315&categoryid=26
Clem Leek – Rest

What makes this EP by Clem Leek is unique is not an abstract, avant approach or an eclectic melange of genres. It is really quite tranquil and lovely. I suppose the best way to describe it as a collection of guitar based sketches with occasional vocals that split the difference between ambient and melancholic indie.  But what really matters is not the description but the music which is unremittingly beautiful throughout this little gem of a record.
Release: Brian Records (February 2013)
Favorite tracks: Lights of New York, Into the Wind 

Information: http://clemleek.bandcamp.com/album/rest
Floex – Gone

'Gone' covers a lot of musical ground over the course of its five tracks.  The showpiece for me is Floex's original abstract electro-acoustic song 'Saturnin and the Restless Ocean' and the inspired rework of the same track by Hidden Orchestra featuring their trademark dynamic dual-drum attack.  There is also the lovely title track, especially composed for the Floex live vocalist Sára Vondrášková of Never Sol, an ambient piano composition, and a vibrant remix by Dikolson of "Veronika's Dream" (originallly from the 2011 release 'Zorya').
Release: Denovali (August 2013)
Favorite tracks: Saturnin Fire and the Restless Ocean (both mixes)

Information: http://store.floex.cz/album/gone-ep
Ghost Bike – Sun of the Dead

Vlad Shusterman describes the style of his Ghost Bike project as "dense, distressed, daedal beauty crafted from fusion of both live and canned vocals, sweeping electronics, eclectic sampling, and omnipresent heavily processed guitar".  Falling somewhere between the realms of electro and post rock with a dash of psychedelia, it is a potent and exotic sonic potion.  Many tracks feature vocals sung or spoken, but the track that really blows me out of the water is the instrumental 'The German Ocean'.
Release: n5MD (November 2013)
Favorite tracks: Up in Her Room Just Sleeping, The German Ocean, 

Information: http://n5md.bandcamp.com/album/sun-of-the-dead
Human Pyramids – Planet Shhh!

Human Pyramids is a new project from multi-instrumentalist Paul Russell in collaboration with a number of musicians from around the UK.  It is self-described  "a triumph of neo-classical arrangement, a world in which jubilant choir-led chamber music and post-punk meet head on to form a place where anything is possible". Imagine a brass band, chamber orchestra, choir, and a group of rock musicians all converging on the same stage and putting on a show.  But there is plenty of method among the madness. The level of musicianship is high and the arrangements are both cleverl and expertly paced.  This is serious music that delivers a lot of fun in the listening.
Release: Oxide Tones (October 2013)
Favorite tracks: Alphabet City, Tinfoil Stars

Information: http://humanpyramids.bandcamp.com/album/planet-shhh
Ithaca Trio – Music for Piano and Patience

Ithaca Trio is the electronic music project of UK composer Oliver Thurley. 'Music for Piano and Patience' contains two long form pieces of minimalist piano composition morphed, processed, and looped into repeating, interlocking, spiraling, and decaying patterns for 30 to 35 minutes each.  As abstract and experimental as that sounds, if you lend it your ears and your patience, it will reward you with some utterly absorbing and beautiful music.
Release: Home Normal Records (November 2013)
Favorite track: Just Skin

Information: http://homenormal.bandcamp.com/album/music-for-piano-patience
Jacob Montague – Tiger and Traveler

An album that is hard to describe, but oh so easy to listen to, 'Tiger and Traveler' by composer & producer Jacob Montague has three subtly divided parts. Six tracks based on a short story of the same name written by he and his sister, a pair of tracks from an earlier EP, and a trio of songs that comprise the score to a short film called 'Moriah'. It all works very well as a single album tied together by the common thread of musical storytelling through mostly acoustic instrumentation. It has warm, organic feel and irresitable charm. A fine album to put on just about any weekend afternoon.
Release: Independent (January 2013)
Favorite tracks: The Unheard Parade, Observation Wheel

Information: http://jacobmontague.bandcamp.com/album/tiger-and-traveler
Kettel – ibb & obb

The music on this new album from Reimer Eising as Kettel was actually scored for a co-op platform video game called Ibb & Obb.  According to the label, "the complete score turned out so extensive and unique…that the situational in-game music was reworked to an album".  It is quirky, hypnotic, sometimes beautiful, and, at 26 tracks, expansive. A captivating recording that fans of Kettel and electronic music in general should definitely check out.
Release: Sending Orbs (August 2013)
Favorite tracks: Clarity,Clara, Nord 

Information: http://kettel.bandcamp.com/album/ibb-obb-original-soundtrack
Kumea Sound – Kumea Sound

Kumea Sound is both a music project and record label run by Finnish musician Lauri Wuolio.  The music is both a melodic and experimental exploration of the resonant sounds of the handpan, which Wuolio prefers to refer to as the cupola.  Elements of new age, jazz, world, and electronic music are all part of the tapestry of sound Wuolio weaves on this unique and delightful record.
Release: Kumea Sound (September 2013)
Favorite tracks: Twelve Monkeys, Seawards 

Information: http://kumea.bandcamp.com/album/kumea-sound/
Lullatone – Falling for Autumn

As Lullatone, Shawn James Seymour and Yoshimi Tomida make music that sound deceptively simple but incorporates diverse influences from electronica, children's songs, pop, classical, and jazz.  The track titles are as enchanting as the songs and the album proves that music does not have to be heavy to be sophisticated or intelligent. This one should bring a smile to the face of your inner child.
Release: Lulla-Label (October 2013)
Favorite tracks: just walking around, adventure music for migrating birds

Information: http://lullatone.bandcamp.com/album/falling-for-autumn-ep
Marsen Jules Trio – Présence Acousmatique
The music on Présence Acousmatique lives deep in the night and the soul somewhere between ambient, avant garde, and modern jazz. Marsen Jules is accompanied here by Anwar Alam and Jan-Philipp Alam on piano and violins and, on two tracks, by Roger Doring on saxophone.  Sometimes abstract, sometimes direct, but always patient and atmospheric with a heavily melancholic film noir mood.  A unique and exceptionally well-performed required full of sonic depths to explore.
Release: Oktaf (July 2013)
Favorite tracks: Eclipse, Les Trains Stortent De La Gare

Information: http://marsenjules.bandcamp.com/album/pr-sence-acousmatique
Zoon Van Snook – The Bridge Between Life and Death 
The music of UK artist Alec Snook as Zoon Van Snook is sometimes referred to as oddtronica.  I prefer his own hilariously self-deprecating description: "A passion for genre-spanning melody, field recordings, found sound and electronics combined with the utility of guerrilla techniques (encompassing household objects) has spat ZvS face first into the sphere of criticism in the creation of affably sinister sonic sketches and ambionic audio montage."  That humor and eccentricity definitely shines through in the album, but there is also plenty of seriously good music here as Snook is also happy to give us some very nice melodies and arrangements as well. A beguiling and ultimately very satisfying record to listen to.
Release: Lo Recordings (May 2013)
Favorite tracks: Thufur Thoroughfare, The Potter's Garden

Information: http://zoonvansnook.bandcamp.com/album/the-bridge-between-life-death