In this musical excursion, we look at a quartet of albums featuring electronic music by Ocoeur, Idlefon, John Lemke, and 36.  Each one will fill your headphones with a stunning palette of sound, light up your neural pathways, and engage both your thoughts & emotions. 
Ocoeur – Parallel Life (N5MD)
Due for release on July 22, A Parallel Life is the second full length release by Ocoeur (aka Franck Zaragoza) on the vaunted N5MD label. Sounding equally organic and mechanized, cosmic and earthy, glitchy and melodic, it is quite simply a tour de force of sonic craftsmanship that will delight your ears from the first note to the last.
Among the highlights here are the opener, 'Universe' which features a fusion of bouncy and scratchy textures percolating over spacey, melodic synth lines, the affecting 'Kofski' led by mournful strings, the cinematic 'North', which plays like a soundtrack to a science fiction melodrama begging to be filmed, and the pulsating, twitching title track.  The album then ends quite beautifully with 'Red', a melancholic and moving drone that could be the meditations of a soulful machine.
Zaragoza has a fine ear for both fetching melodies and inventive percussion lines as well as a midas touch with his beats and textures which makes this Ocoeur record a must-listen for fans of ambient, downtempo, techno, and IDM alike.
Order from N5MD (CD/LP/MP3): http://n5md.com/discography/229/A-Parallel-Life
About Ocoeur: http://ocoeurofficial.virb.com/about
Listen to the title track, 'A Parallel Life':
Idlefon – Intensive Collectivity Known as City  (Tympanik Audio)
Intensive Collectivity Known as City, Idlefon's new full length release on Tympanik Audio, is further evidence of a burgeoning electronic music scene in Iran. Idlefon himself is Hesam Ohadi, a computer musician and sound artist based in Tehran. He is also a member of the post-rock/ electronica band Photomat along with Siavash Amini and Nima Pourkarimi, each of whom makes a guest appearance on the album. Idlefon adds a wonderful new dimension to the Typmanik Audio catalog, as acknowledged in their introduction to this artist:
"In 2014, Idlefon found his way to Tympanik's doorstep to present his debut full-length album Intensive Collectivity Known as City. A haunting yet beautiful collection of soundscapes and ambiance, this collection of sounds ebb and flow like a gentle tide, calibrating the subconscious and aligning the soul. Complex and intricate beats blend with ambient textural sounds, signed by distant voices and enticing melodies to create a wondrous world where responsibilities are disregarded and time is infinite."
There is indeed a a contemplative melancholy that pervades the record, even a sense of desolation, as evidenced by some of the early tracks like 'Kuchiniwa' and 'Reminiscence'.  But, it also simmers with hypnotic beats, deep liquid bass lines, glitchy textures, melodic synths, and haunting vocal samples, all of which inject serene and scintillating energy into the mix.  The juxtaposing of these aesthetics is both effective and mesmerizing, especially on tracks such as 'Intensive Collectivity' and 'Ikigami'. And, when it all coalesces and blossoms into a cinematic swell of emotion, as it does on 'Of Rust', it is breathtakingly beautiful.
Other highlights here are the collaborative tracks that close the album, the densely atmospheric 'Pretend It's Spring' with Siavash Amini and the airy ambient drone 'Pickers of Empty Cocoons' with Nima Pourkarimi (aka Umchunga).
Intensive Collectivity Known as City is available from Tympanik in digital or CD format.
Bandcamp: http://tympanikaudio.bandcamp.com/album/intensive-collectivity-known-as-city
Listen to 'Of Rust':
'Reminiscence' (video by Arash Akbari aka Odepth):
John Lemke – Walizka (Denovali)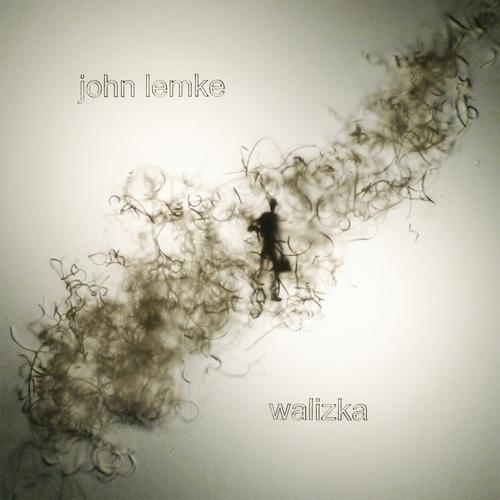 Walizka by John Lemke is a significantly enhanced reissue of a three track EP that was originally released as a teaser for the Lemke's full length album People Do on Denovali. The new version includes the three original tracks ('Walizka', 'Drift', and 'Kompass') along with stunning remixes by fellow Denovali artists Piano Interrupted, SaffronKeira, Everyday Dust, and Petrels.  According to Lemke, the songs on Walizka were actually developed after the material on People Do and shift the electro-acoustic feeling of that record into "more dub drenched territories".  The origin of the project is described thus:
"three items in a suitcase, a clarinet, a looper and a microphone – is how it all started. a free improvisation with friend & collaborator lukasz bernacki (on clarinet) sparked john's desire to bring his compositional and production approach back down to the most basic elements. creating simple, yet distinctive rhythms only through tapping contact microphones run into noisy guitar amps became the base for the ep's three tracks, consequently inspiring its live, lo-fi feel. written and recorded between john's native berlin and his adopted home of glasgow, walizka (polish for 'suitcase') somehow absorbs the defining atmospheres of both cities in its core."
If you have not heard the original tracks, you are in for quite a treat.  Syncopated, percolating rhythms and impossibly catchy bass lines flow throughout, and the balance of acoustic and electronic elements is seamless and intoxicating. The remixes then take these tracks in surprising new directions. In each case, the guest artists slow down the original source material and uncover entirely new sonic possibilities which underscore the strength of Lemke's compositions.
Piano Interrupted slows 'Walizka' down into a graceful waltz with the most delicate of electronic flourishes.  Saffronkeira takes 'Kompass' for a deep ambient dive while preserving the glitchy dub aesthetic, albeit in slow motion.  Everyday Dust then takes the same track and, dropping the percussion elements, transforms it into a transcendant and contemplative drone.  Finally, Petrels takes 'Drift' and stretches it into nine minute abstract excursion of changing moods and electronic alchemy.  Despite the diversity of styles and artists, it all meshes together beautifully and flows coherently. A unique and captivating album.
Walizka is available from Denovali in CD and MP3 formats as well as two flavors of 180g vinyl, clear gold and black.
Order from Denovali: http://www.denovali.com/johnlemke/
John Lemke web site: http://www.lostinsounds.com/
Listen to 'Kompass (Everyday Dust Remix)':
36 – Dream Tempest (3Six Recordings)
With Dream Tempest, Dennis Huddleston was looking to take his very successful musical project, 36 (pronounced three-six) into some new territory.
"Dream Tempest is my 6th studio album. It's probably the most optimistic of all the works I have made. It still has that glowing melancholy I just can't seem to shake from my music, but in a very different way to the pitch-black isolation of Lithea. I wanted it to be inspirational as well as downcast; playful as well as moody. I don't want to write music that is discarded when the next big trend or genre blows up. I want to create something that you can listen to 10-20 years later and still feel a connection to."
The last thing fans of 36's earlier work would want would be to lose that "glowing melancholy" and they will find it on Dream Tempest, especially on tracks like 'Tired' and 'Entropy'. But one need go no further than the arpeggio synthesizer runs and the buzzing swells of distortion on the title track to realize that the new album is painted with a more vivid palette and on a wider canvas than its predecessors. The playful element Huddleston mentions is here too, as evidenced by the wobbly, slow motion jazz chords of 'Neon Sunset', the quirky cosmic throwback sound of 'Perfect Numbers', and the music box tones of 'Hyperbox', an especially bright and ear catching track.
It is the inspirational element, however, that ultimately gives Dream Tempest the breadth and depth that make it such an extraordinarily enjoyable album.  An outstanding example would be the beautiful 'Sun Riders', which Huddleston released earlier this year as a special EP reflecting his own fascination with the exploration of space he experienced while growing up. Also, 'Redshift', a melodic drone in a sea of blissful guitar textures, and 'Always', a lush and beautiful ambient piece with a cathartic tsunami of distortion at the zenith of it's emotional arc.
Dream Tempest is a feast for the ears and should both please fans of 36 while enjoying the broader reach that he makes into both lighter and darker sonic territories. The variety of moods and styles make the time spent listening to it pass quickly and will likely have you turning on repeat mode.  The album is offered in MP3 and FLAC digital formats, as a stand alone CD, and in a specially priced CD bundle which includes Hyperpersona, Hollow, and Lithea.
Order: http://www.3six.net/products/530630-dream-tempest
Listen to the title track, 'Dream Tempest'
Sun Riders music & video by 36: